Question:Â  How should ESD jackets be laundered?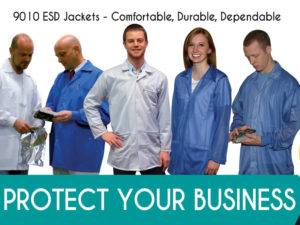 ESD jackets come in many shapes and colors, not to mention fabrics, so it can be very difficult to choose the right jacket for your application.  Now you have tried all the samples, haggled with salesmen, and have placed your first order, how do you care for your ESD jackets to ensure long life?
Answer: Wash in cool or cold water (90°F maximum) with any commercially available liquid detergent. Do not bleach. Hang dry or tumble dry on low heat. The carbon-suffused mono-filament nylon is sensitive to heat and should not be ex-posed to laundering heat in excess of 120°F or more.