Description
The PGT Test Station ESD Kiosk Is Your Hub For ESD Grounding Product Testing.
The PGT120 personnel grounding tester takes quick and accurate resistance measurements of ESD grounding products and ensures they are working properly. The TC18 Touch Screen Computer is the hub for your ESD program.
Pair the PGT120.COM tester unit with the 7100.PGT120.COM.TC18Â Touch Screen Computer and you receive real-time ESD testing with personnel identification, access control and central data maintenance. Also connect to a number of accessories such as a label printer, bar code scanner, RFID, database server and much more.
Touch Screen Computer For ESD Testing
The PGT120 Testing Kiosk comes with a Touch Screen Computer which acts as a testing hub:
View real-time test results visually. The actual test value displays on screen
Images of a Wrist Strap and of a Left and Right Shoe will Indicate a PASS by changing to Green and a FAIL by changing to Red.
Measurements are stored on the computer.  You can easily view the test log with a tap of the "Measurement" button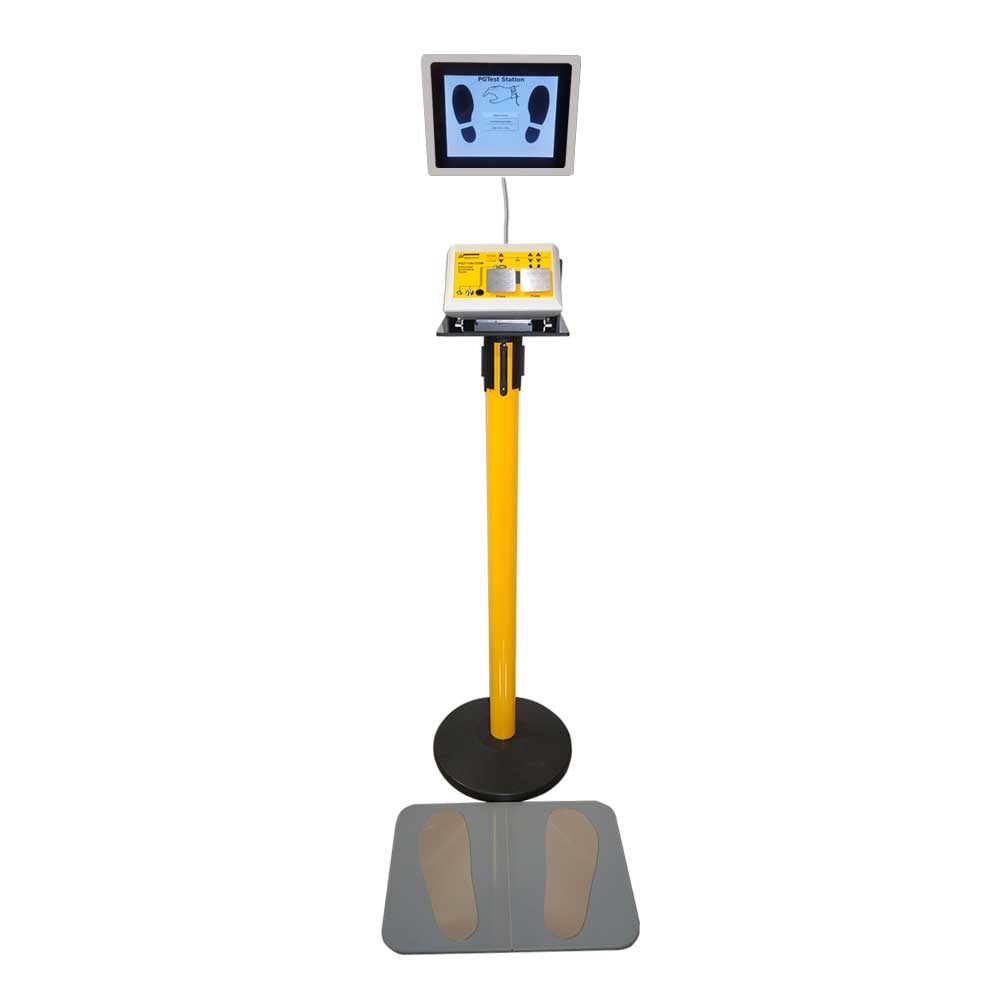 Touch Screen Computer For ESD Testing
The PGT120.COM tester can be wall mounted or used with a pedestal stand for freestanding operation.  The TC18 Touch Screen Computer can be mounted to a surface using a standard TV/Computer media mount.
Plug and Play Integration
The TC18 Touch Screen Computer can easily integrate a variety of USB accessories:
Human Input Devices (HID) for employee identification: Such as RFID Readers, Bar Code Scanners, Key Pads
Printer that can produce Test Result Label Badges displaying test result, time and date
Signal Lamp:Â  Visually indicate Passes and Fails
Temperature and Humidity Sensor
Test Data Logging
The TC18 Touch Screen Computer is network ready and can integrate into your company computer system via a wire Ethernet connection. Test results are stored and can be viewed on screen or from any computer on the Network via the PGT Web Interface.  The PTG records:
Time
Date
Left Shoe, Right Shoe
Wrist Strap/Smock
Result
Employee ID
Temperature and Humidity
The PGT Testing Kiosk is a modular system for recording and processing Personnel Grounding Tester's test data. A basic system consists of: PGT120.COM and PGT120.COM.TC18 touch screen computer.
The data can be retrieved by a web browser from any computer when connected to a network. Test data can be imported to Time Attendance or Access Control systems via network interface.
Remote PC functions when connected to network:
List of measurement data with coloured marking of failed tests
Printed test results list
WEB-interface for easy configuration
German and English support
Features and Specifications
Touchscreen 10″ (capacitive)
with integrated MiniPC (DATATerminal)
LAN-Port RJ45
4 x USB2.0-Ports
COM RS232 (DATA Port for PGT120.COM)
Power supply: AC 100-240V 50-60Hz / DC 12/5A
Housing: Aluminium, silver
Dimension: 288 x 231 x 58 mm
Mounting: Front-panel and VESA 57x75mm / 100x100mm
Ready to integrate into existing infrastructure
Multiple PGT120.COM stations can be networked
Existing identity cards or time attendance cards can be re-used
Open database interface
Measurement data is ready to process after a few seconds
Various databases can be used
 Combination with existing access systems is possible
Secure network communication
The following data is recorded in ASCII format:
Value Footwear in Series: Value in kOhm
Value Wrist Strap System: Value in kOhm
Value of Left Foot: Value in kOhm
Value of Right Foot: Value in kOhm
Test OK: OK
Test Failed: Error no.