Description
Full featured digital Surface Resistance Meter with data storage, temperature and humidity testing!
SRM200 is a very useful instrument for checking surface resistance and resistance to ground. The instrument can be used on different work surfaces, floors, chairs, carts, clothing and packaging materials, etc. The measured value is displayed with LED display that indicates whether the value is conductive, dissipative or insulating. All readings can be stored in the instrument and can by using the included software easily transferred to PC via USB cable.
The measurements can be performed either with the built-in measurement electrodes (fitted with conductive rubber for good conductivity) on the underside of the instrument or preferably together with two 5lb disk measuring electrodes SR0065 or  the two point probe model number 7220.410. Performed measurements with external measuring electrode met the requirements of ANSI ESD S20.20 and IEC61340-5-1. SRM 2000 also has integrated temperature and humidity sensor.
Operation Description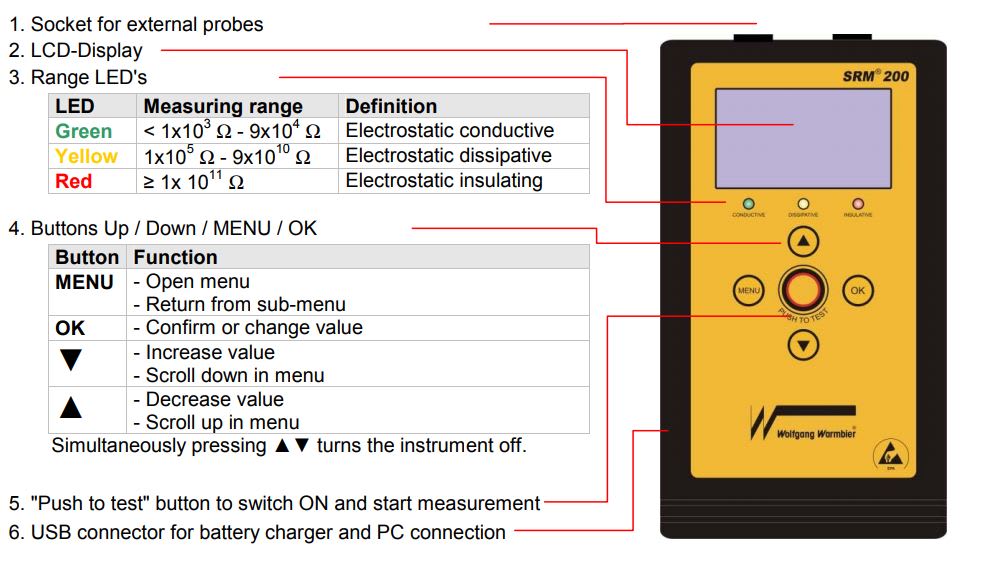 LCD Display

Maintenance
Battery condition is permanently monitored in the LCD display. Connect the instrument to a computer or use the power supply to charge the battery in time. The unit won't switch on if the battery is damaged. Unscrew the battery lid at the backside of the unit to replace the battery. Replace only a rechargeable battery of the same type and take care of the polarity.
Data Logging and Report Export
All readings can be stored in the SRM200 built-in memory (up to 9801 measurement values) and which can be easily transferred to PC via USB cable.  The measurement data can be filtered and exported to a CSV file.


A measurement report can be produced with the following data points: Specimen ID, Resistance Classification, Device Serial Number, Resistance, Temperature, Humidity, Date, Min, Max and Comments.
Calibration
The recommended calibration service interval is 2 years.  If you would like to verify calibration periodically, use the Veribox resistor box.  The Veribox contains three resistance values to compare to the SRM200: 10K, 1M and 1 G.  If the SRM200 measures the correct resistance, calibration is verified.